Fireshield WoodSafe®
Impregnated fire rated timber - Interior use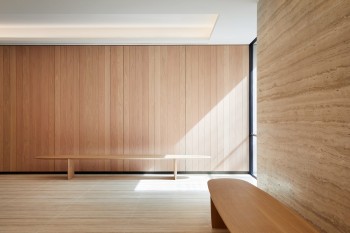 Substrate | Timber
Surface Rating | Group 1-S
Substrate Thickness | Varies depending on timber species
Substrate Density | Varies depending on timber species
---
Fireshield WoodSafe® is a Group 1-S rated range of interior timbers for use in dry areas with a maximum constant humidty level of 75%.
Fireshield WoodSafe® is a factory-applied fire-rated, aqueous solution used to impregnate a range of timber boards, battens, and plywood sheets to provide fire-rated timber surfaces.
Fireshield WoodSafe® is available in various species, grades, profiles and finishes, contact Fireshield for non-standard profiles.
RECOMMENDED USE
Fireshield WoodSafe® timbers are for interior environments and achieve the highest Group surface rating available in New Zealand, Group 1-S.
Fireshield WoodSafe® can be used as timber battens and fins, wall and ceiling linings in dry internal environments with a maximum constant relative humidity of 75%. For exterior use, internal areas with humidity over 75% and wet areas use Fireshield WoodSafeX.
Fireshield WoodSafe® certification:
Tested to EN13501-1:2010 and achieves Fire Class B-s1-d0. This is recognised as equivalent to Group 1-S under the NZBC Clause 3.4(a) providing compliance with NZBC C/AS1-C/AS7.
This revolutionary new Fireshield system is available in the following timber species, standard and custom profiles are available, see the TDS for more information:
Pine
Thermally modified Pine
Western Red Cedar
Poplar
Birch
Maple
Siberian Larch
American White Oak
Many more species available, please contact Fireshield for more information.
Fireshield WoodSafe® can only be coated with Fireshield approved stains, penetrating oils, paints, polyurethanes, and varnishes. See the approved coatings list.
SUSTAINABILITY
All Fireshield WoodSafe timber products are certified sustainable by FSC and PEFC. Final certification for each timber species will accompany each order.
WARRANTY
The fire protection properties of the Fireshield WoodSafe system will remain for the service life span of the timber (subject to terms and conditions).